Looking for the best handbags? Explore these popular picks from the top brands
Want to give your style a refresh this year, without having to update your wardrobe? A new handbag can do just that. Or perhaps you're looking to treat someone special to a nice bag.
Even if you love shopping, like us, the sheer number of styles, colors and brands can easily become overwhelming. We've got you covered with a diverse, carefully curated set from the leading brands; bestselling shoulder bags, totes, crossbodies, satchels, messenger bags, mini bags and more. You'll find budget-friendly picks, such as this Uniqlo crossbody/shoulder bag that went viral on TikTok, all the way up to luxury designs including this stunning vintage Burberry crocodile-embossed satchel.
Best shoulder bags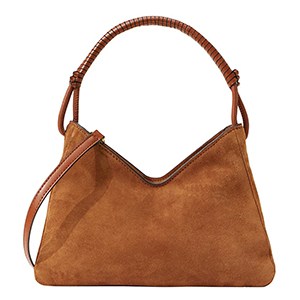 Staud , Valerie Suede Shoulder Bag
Remove the strap for a different look.
Sold by Amazon
This Staud handbag is made of soft tan suede, designed with a leather-wrapped top handle and an interior slip pocket. The shoulder strap is removable, so you can wear this bag in multiple ways.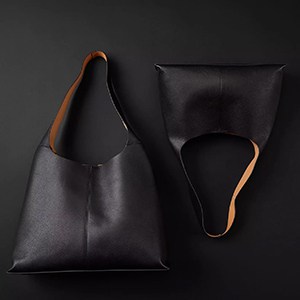 Style and storage in this lovely bag.
Sold by Amazon
This deep Hobo handbag offers more storage than other designs. The sleek vegan leather exterior comes in black, brown or purple with a contrasting beige interior and slip pocket inside. The single shoulder strap will stay more securely on your arm compared to double-strap alternatives.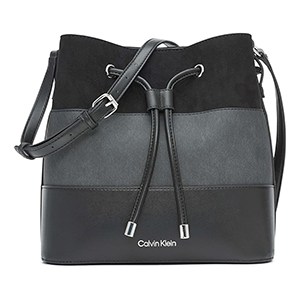 Calvin Klein, Women's Gabrianna Novelty Bucket Shoulder Bag
Available in many colors and patterns.
Sold by Amazon
This budget-friendly bag is made of vegan leather and suede, paired with silver hardware and the Calvin Klein logo. The bucket-style bag has a neat drawstring feature, interior slip and zipper pockets and an adjustable strap for wearing it as a shoulder bag or crossbody. It comes in 20 monochrome and multicolor models.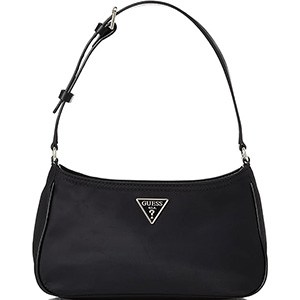 Guess , Little Bay Shoulder Bag
Tough enough for everyday wear.
Sold by Amazon
This Guess handbag is great for someone who doesn't need much storage but wants to keep personal items organized in the four zipper and slip pockets inside. The brand logo is shown on the front, and it's got shiny, pale gold hardware and an adjustable strap. Its tough nylon construction will stand up to everyday wear and won't get damaged in rainy or snowy weather. This affordable, practical piece comes in plain black and quilted maroon styles.
Best crossbody bags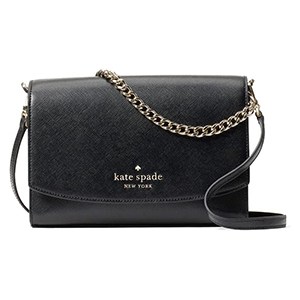 Kate Spade New York, Carson Convertible Crossbody Handbag
Pick up a fun pattern, like hearts or ladybugs.
Sold by Amazon
This leather Kate Spade crossbody contains exterior and interior slip pockets with an adjustable strap and gold hardware. The brand logo is stamped on the outside, with 21 monochrome, multicolor and patterned styles to choose from.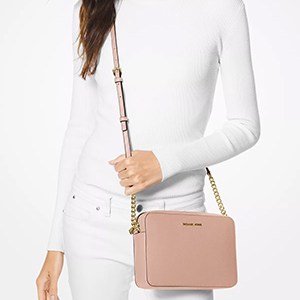 Michael Kors , Leather Jet Set East West Crossbody
A five-star fashionista favorite.
Sold by Amazon
This Michael Kors handbag is made of crossgrain leather with the brand logo on the front. Inside, it ofers a polyester lining, slip pocket and a convenient padded pocket for storing an iPad. This crossbody is available in soft pink, black or brown with gold hardware, as well as black with silver hardware.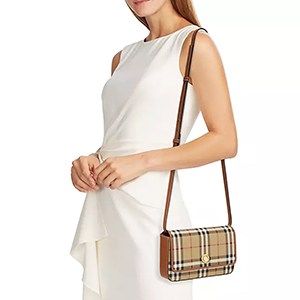 Burberry , Hampshire Archive Check Crossbody Bag
This stylish bag features the brand's iconic check pattern.
Sold by Amazon
This luxury piece features Burberry's signature plaid pattern and a stamped gold plaque on the front indicating that the handbag is genuine. It comes with an adjustable crossbody strap and an interior slip pocket, made from a combination of natural and synthetic fabrics.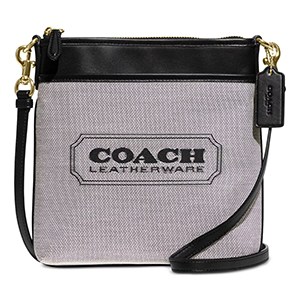 COACH , Badge Jacquard Kitt Crossbody
This fashionable find is a Macy's exclusive.
Sold by Amazon
This versatile Coach handbag transforms from a crossbody into a clutch by removing the strap. The branded bag has gold hardware and an open interior pocket, available in two color schemes: black and gray or metallic taupe and gray. It's crafted from a combination of cotton, polyester and leather.
Best tote bags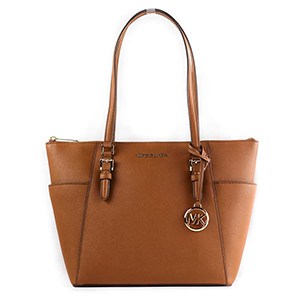 Michael Kors , Charlotte Signature Bag
So many colors to choose from; the Palmetto Green will be a tropical traveler's delight.
Sold by Amazon
On this leather tote by Michael Kors, a metal monogram logo acts as a decorative accessory, hanging from a leather strap on the front of the bag. The bag has two shoulder straps and two exterior side slip pockets for easy access. It contains a zip pocket, two slip pockets and a polyester lining on the inside. It comes in 14 colors with gold or silver hardware, depending on the model.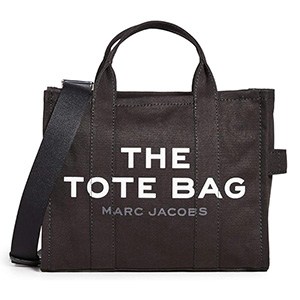 Marc Jacobs , The Medium Tote Bag
A colorful canvas carryall to cart your essentials.
Sold by Amazon
This cotton canvas Marc Jacobs tote is a real statement piece, with the brand's logo and "The tote bag" rendered in bold block lettering on the front. Along with two top handles, it has an adjustable, removable strap that lets you wear it as a tote, shoulder bag or crossbody. There are two zip and slip pockets on the inside. It comes in 12 colors, from neutral to patterned to neon.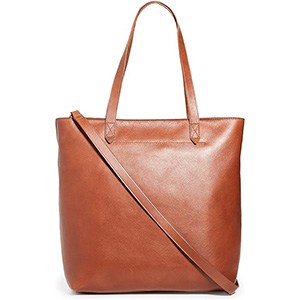 Madewell, The Zip-Top Medium Transport Tote
The zippered top will keep belongings contained.
Sold by Amazon
This Madewell handbag is made of supple leather with an exterior slip pocket and interior zip pocket. You can carry it using the top handles or attach the removable, adjustable strap for crossbody wear. It's available in plain brown, green and black or black with brown straps for a contrast effect.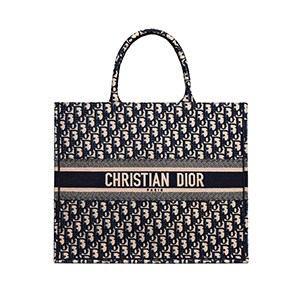 You can personalize this large tote for free.
Sold by Amazon
This luxe handbag features branded lettering on the front, embroidered with Dior's signature oblique pattern in contrasting black and beige. Crafted with jute canvas and made in Italy, it contains two top handles and open storage inside.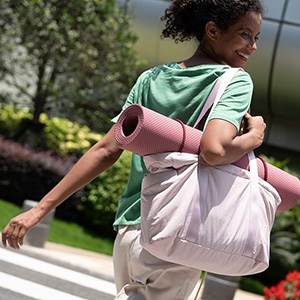 The smart factor is in the brand's name. Lightweight and water-resistant; perfect for everyday errands.
Sold by Amazon
This multifunctional tote is as affordable as it is practical. It's made of lightweight, water-resistant nylon with two top handles, a yoga mat strap and an exterior pocket for storing a water bottle. The spacious interior can hold gym clothes, cosmetics, laptops up to 15.6 inches and more. You can get this handy tote in six colors.
Best satchels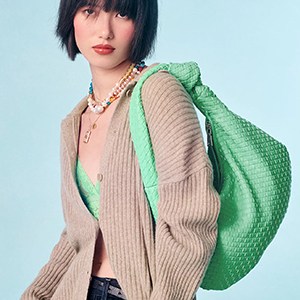 Melie Bianco , Brigitte Large Satchel
There are so many fun options to choose from with this bag.
Sold by Amazon
This satchel has a stylish slouchy aesthetic with an intricate weave and chunky knot on the handle. The vegan leather bag has a polyester lining, with two inner zip and slip pockets. It comes in 15 colors including neutrals, bright colors, neon and metallics.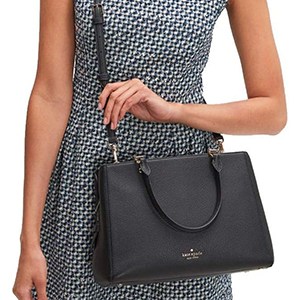 Kate Spade New York , Leila Medium Triple Compartment Handbag
Wear this in multiple ways.
Sold by Amazon
This Kate Spade handbag is both a crossbody and a satchel with two top handles and a detachable, adjustable strap. Featuring the brand's logo on the front, it's designed with two interior slip and zip pockets and two open compartments. The pebbled leather design makes it more visually interesting. This bag comes in six colors with gold or silver hardware, depending on the model.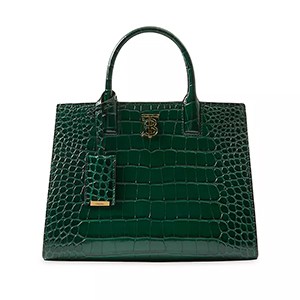 Burberry , Frances Crocodile-Embossed Leather Satchel
This lovely purse will never go out of style.
Sold by Amazon
If you're on the hunt for a bag that's simultaneously bold, timeless and luxurious, this Burberry satchel is perfect. With fine Italian craftsmanship, it has a glossy, crocodile-embossed leather exterior in a deep, rich green. The brand logo and identification tag on the front contain gold hardware. There are two top handles; an adjustable, removable shoulder strap for versatile wear; and two zip and slip pockets on the inside.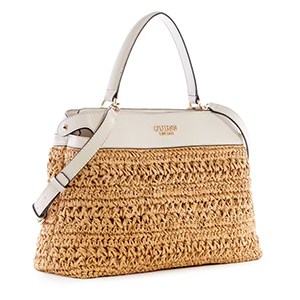 Guess , Liguria Crochet Straw Satchel
Add a bit of bohemian flair to your wardrobe.
Sold by Amazon
This Guess satchel exudes bohemian chic with its crochet straw detailing. It has a faux leather trim with the brand logo on the front, a top handle and a removable shoulder strap. This design comes in white and beige or all black.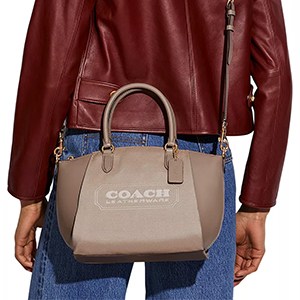 COACH , Badge Jacquard Elise Satchel with Convertible Straps
You can't go wrong with a Coach bag, in our opinion.
Sold by Amazon
The large Coach logo on the front and contrasting textures make this cute little satchel eye-catching. It's made of a combination of Jacquard fabric and leather, with interior zip and snap pockets. The detachable strap lets you wear it multiple ways. You can get this bag in taupe and brown or black and gray.
Best messenger bags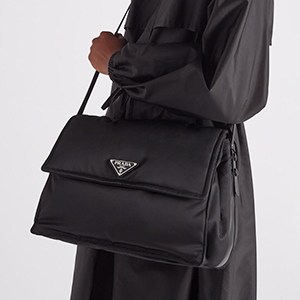 Prada , Re-Nylon Large Padded Shoulder Bag
The most luxurious-looking nylon bag you might ever lay your eyes on.
Sold by Amazon
This padded Prada handbag is made of recycled nylon that resists everyday wear and tear with subtle leather elements for style. The Prada logo is shown on the front flap and the bag is accented with silver hardware. There's an adjustable shoulder strap, a zipper pocket at the back, and open and zipper pockets inside.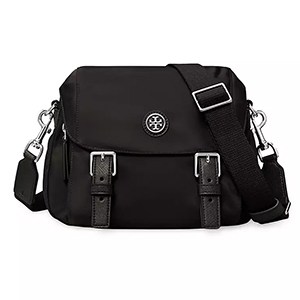 Tory Burch , Small Virginia Nylon Messenger
I'm just the messenger. But with fabulous form and function
Sold by Amazon
Shiny silver hardware creates an attractive contrast effect against this black Tory Burch handbag, with the brand logo and decorative buckles on the front. It's made of strong recycled nylon with a removable, adjustable strap for flexible wear. Capable of storing an 11-inch laptop, it contains two exterior zipper pockets and two interior slip pockets.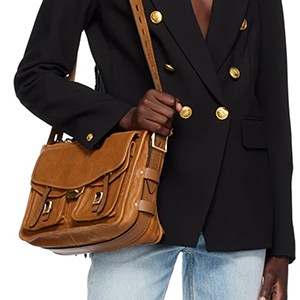 Rag & Bone , Brown Field Messenger Bag
We are vibing on the vintage style of this beauty.
Sold by Amazon
This messenger bag is perfect for someone who loves a vintage aesthetic. The grained leather outer adds a nice textured effect, accented with gold hardware. The design includes an adjustable, detachable shoulder strap; the brand logo on a foldover flap with two pockets on the front; an open interior pocket; and cotton canvas lining.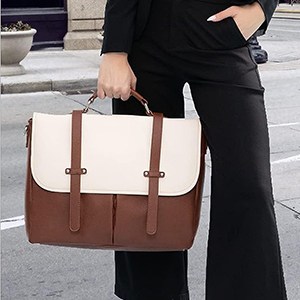 Lovevook , Leather Messenger Bag for Women
Cost-effective, sensible and good-quality bag that's a great bang for your bucks.
Sold by Amazon
If you're in the market for a cost-effective, good-quality messenger bag, this is the one to get. This sensible bag is made of sturdy faux leather with silver hardware and many compartments for keeping work or school items organized. There are two buckle zip pockets on the front, a top handle and rear zip pocket on the back. The inside contains a padded pocket for laptops up to 15.6 inches, one large and one small zip pocket, two small slip pockets and two pen slip pockets. The two-tone bag comes in three color schemes: brown and beige, black and brown, and black and purple.
Best mini bags
UNIQLO, Round Mini Shoulder Bag
We can get behind this TikTok sensation.
Sold by Amazon
This unassuming little bag exploded on TikTok earlier this year, and we can see why. It's inexpensive with a roomy interior, made from practical, water-resistant nylon. The minimalist, unisex design lacks branding for a fashionably understated look. There's an interior pocket for storing your keys and other small items and an adjustable strap for wearing it as a shoulder bag or crossbody. Plus, it's offered in seven colors.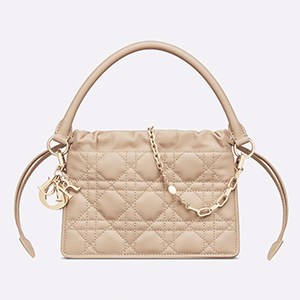 Dior, Lady Dior Milly Mini Bag
The charms on this bag are removable, but the charm of the bag is not.
Sold by Amazon
This cute mini bag is crafted from luxurious Italian lambskin decorated with a set of removable Dior charms. The Christian Dior handbag has a drawstring-cord closure, with a removable leather handle and detachable chain for carrying it in your hand or wearing as a crossbody. The quilted design and shiny gold hardware elevate the look.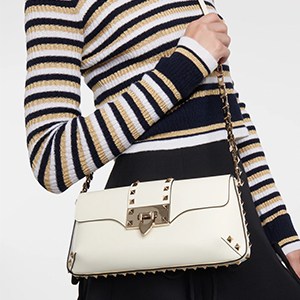 Valentino Garavani, Rockstud Small Leather Shoulder Bag
Studs and style combine for an edgier look.
Sold by Amazon
This Valentino handbag has edgy Rockstud details, with shiny gold hardware that complements the ivory leather. Made in Italy, it features a snap-clasp fastening, a chain and leather shoulder strap and a small interior slot for storing credit cards.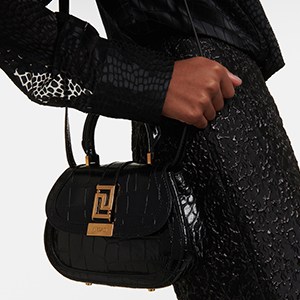 Versace , Greca Goddess Mini Leather Tote Bag
Calfskin and crocodile and Italian crafting … oh my!
Sold by Amazon
This elegant mini tote is made of sleek calfskin with a crocodile pattern. The shiny gold hardware and Versace logo on the front stand out against the black leather. The Italian-made Versace handbag contains internal slot pockets, a top handle and detachable strap for multiple wearing options.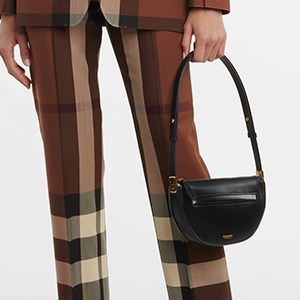 Burberry , Olympia Mini Leather Shoulder Bag
Another Italian beauty made from calfskin lends a contemporary accent to your ensemble.
Sold by Amazon
This miniature Burberry handbag is made of black Italian calfskin with a subtle shine to it, accented by matte gold hardware. It contains a front slot pocket and an interior card slot. The adjustable strap lets you wear it on your arm or as a shoulder bag.
More of the best handbags
lululemon, Everywhere Belt Bag 1L
Active users will absolutely love this durable, functional bag.
Sold by Amazon
We brought this trendy Lululemon belt bag into the BestReviews Testing Lab to see if it's worth the hype, and the answer is a resounding yes. Our tester praised the soft yet heavy-duty, water-repellent fabric. We love how comfortable it is to wear and how it can be tossed in the washing machine for easy cleaning. Other highlights include an adjustable strap, exterior zipper pocket, some interior pockets and 12 color options.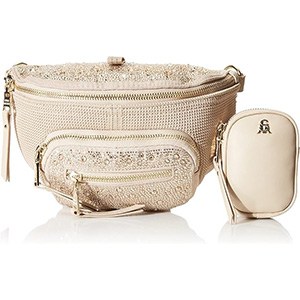 Steve Madden , Women's Maxima Crossbody Handbag
Bring on the glitz and glam with this versatile bag that comes complete with a detachable pouch.
Sold by Amazon
While Steve Madden is best known for its footwear, this glitzy crossbody proves that the brand designs great bags, too. It's not overly expensive, but not exactly a budget buy. It combines practical and glam elements — rhinestones decorate the exterior, which also contains two outer zip pockets; there's a detachable pouch and adjustable chain and fabric straps, so you can also wear it as a belt bag. It comes in six neutral and bright colors with gold or silver hardware, depending on the model.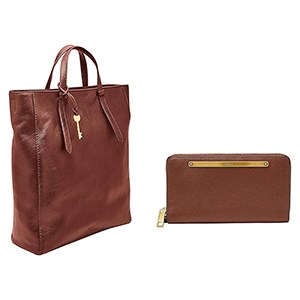 Fossil , Women's Camilla Leather Convertible Backpack / Handbag
A backpack, tote and handbag all in one. You can get this with or without the Liza clutch.
Sold by Amazon
This Fossil bag is the ultimate versatility piece — it's a shoulder bag, tote bag and backpack all in one, thanks to the top carry handles and adjustable, detachable straps. The bag is designed with a glossy brown leather exterior that pairs well with the matte gold hardware. There's even a cute key charm attached to one of the handles. It contains a zipper pocket at the back, along with one zipper and two slide pockets inside. This bag can fit a 13-inch laptop and comes with or without a matching clutch wallet.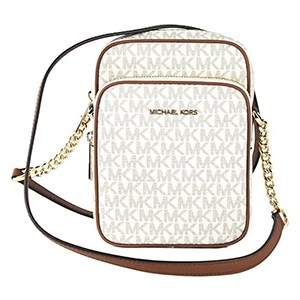 Michael Kors , Jet Set Travel Signature Crossbody Flight Bag
The perfect accessory for trendy travelers.
Sold by Amazon
This Michael Kors crossbody is a go-to for storing your passport, wallet and other small essentials while you travel. There's a Michael Kors logo on the front, and the exterior is decorated with the brand's classic "MK" pattern. It's made from a combination of faux leather and polyester, with a front zip pocket, an open back pocket for quick access and an interior pocket. It comes in seven color schemes with gold or silver hardware, depending on the model.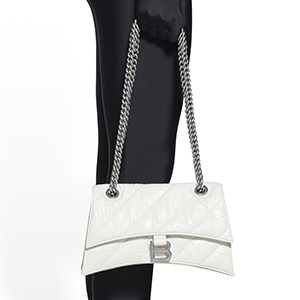 Balenciaga , Women's Crush Small Quilted Chain Bag
The shoulder and crossbody chain is everything and the body of this handbag is available in four fashion colors.
Sold by Amazon
This Balenciaga handbag has a modern curvilinear silhouette with a thick double chain for wearing it on your arm, shoulder or as a crossbody. It's made from crushed, quilted Italian calfskin with aged silver hardware and a B logo representing the brand. One zipper pocket and one flat pocket provide interior storage.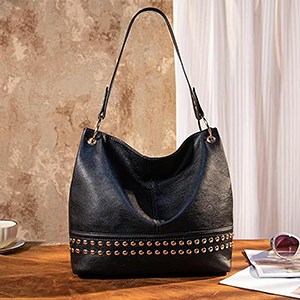 Montana West , Hobo Purses and Handbags
Another edgy option with its studded front bottom.
Sold by Amazon
This spacious faux leather shoulder bag is offered at an affordable price. The glam design features circular studs along the strap and lining the bottom front, with a brand logo and a zipper pocket at the back. Inside, there's a polyester lining, two open pockets and a zipper pocket. You have plenty of color options with this bag, available in 39 versions, including single- and multi-toned.
Want to shop the best products at the best prices? Check out Daily Deals from BestReviews.
Sign up here to receive the BestReviews weekly newsletter for useful advice on new products and noteworthy deals.
Amy Evans writes for BestReviews. BestReviews has helped millions of consumers simplify their purchasing decisions, saving them time and money.
Copyright 2023 BestReviews, a Nexstar company. All rights reserved.