GlobeNewswire
CloudMD Updates Timing of Q3 Earnings
News provided by
CloudMD Software & Services Inc.
Nov 20, 2023, 5:30 PM ET
VANCOUVER, British Columbia, Nov. 20, 2023 (GLOBE NEWSWIRE) -- CloudMD Software & Services Inc. (TSXV: DOC, OTCQX: DOCRF, Frankfurt: 6PH) (the "Company" or "CloudMD"), an innovative health services company transforming the delivery of care, today announced that the Company now expects to release its financial results for the period ended September 30, 2023 ("Q3 2023") on or before November 29, 2023.

The Company's auditor, KPMG LLP, has requested additional time to complete its review procedures. The Company is working diligently with its auditor to complete these procedures and finalize the date for the earnings call. The Company will communicate further details with respect to the earnings call and webinar as details are finalized.
About CloudMD Software & Services
CloudMD is an innovative North American healthcare service provider focused on empowering healthier living by combining leading-edge technology with an exceptional national network of healthcare professionals. Every day, our employees and healthcare providers live our values of delivering excellence, collaboration, connected communication, and accountability to solve complex health problems. CloudMD's industry-leading workplace health and wellbeing solution, Kii, supports members and their families with a personalized and connected healthcare experience across mental, physical, and occupational health. Kii delivers superior clinical health outcomes, consistent high engagement, and measurable ROI for payers such as employers, educational institutions, associations, governments, and insurers. CloudMD is also a market leader in workplace absence management through data-driven prevention, intervention, and return-to-work programs. 
In addition, the Company sells health and productivity tools to hospitals, clinics, and other healthcare service providers to empower them to deliver better care. Visit www.cloudmd.ca to learn more about the Company's comprehensive healthcare offerings.
"Karen Adams"
Chief Executive Officer
FOR ADDITIONAL INFORMATION, CONTACT:
Investor Relations
Investors@cloudmd.ca
1-647-484-1405
Neither TSX Venture Exchange nor its Regulation Services Provider (as that term is defined in policies of the TSX Venture Exchange) accepts responsibility for the adequacy or accuracy of this release.
Forward Looking Statements
This news release contains "forward-looking statements" and "forward-looking information" within the meaning of Canadian securities laws, including statements about the Q3 2023 results. These statements are based upon information currently available to CloudMD's management. All information that is not clearly historical in nature may constitute forward‐looking statements. In some cases, forward‐looking statements may be identified by the use of terms such as "forecast", "assumption" and other similar expressions or future or conditional terms such as "anticipate", "believe", "could", "estimate", "expect", "intend", "may", "plan", "predict", "project", "will", "would", and "should". Forward-looking statements contained in this news release are based on certain factors and assumptions made by management of CloudMD based on their current expectations, estimates, projections, assumptions and beliefs regarding their business and CloudMD does not provide any assurance that actual results will meet management's expectations. While management considers these assumptions to be reasonable based on information currently available to them, they may prove to be incorrect. Such forward‐looking statements are not guarantees of future events or performance and by their nature involve known and unknown risks, uncertainties and other factors, including those risks described in the Company's MD&A (which is filed under the Company's issuer profile on SEDAR+ and can be accessed at www.sedarplus.ca), that may cause the actual results, performance or achievements to be materially different from any future results, performance or achievements expressed or implied by such forward‐looking statements. Although CloudMD has attempted to identify important factors that could cause actual actions, events or results to differ materially from those described in forward‐looking statements, other factors may cause actions, events or results to be different than anticipated, estimated or intended. There can be no assurance that such statements will prove to be accurate as actual results and future events could vary or differ materially from those anticipated in such forward‐looking statements. Accordingly, readers should not place undue reliance on forward‐looking information. CloudMD does not undertake to update any forward-looking information, whether as a result of new information or future events or otherwise, except as may be required by applicable securities laws.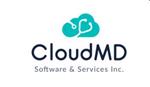 NOTE: This content is not written by or endorsed by "KTSM", its advertisers, or Nexstar Media Inc.
For inquiries or corrections to Press Releases, please reach out to GlobeNewswire.