EIN Presswire | Newsmatics
Dermatologist Doctor Öykü Çelen Recommending Hair Care Products After Hair Transplant
News provided by
EIN Presswire
Nov 21, 2023, 8:48 AM ET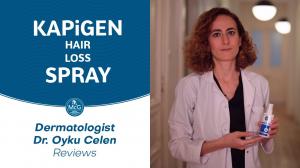 Best Hair Shampoo and Products after Hair Transplant
Comparing side effects between Procapil, Minoxidil and Finasteride
Dermatologist Öykü Çelen recommends to use of Procapil-based products to every one in hair care, regardless of whether hair transplant has been performed or not
Dermatologist Öykü Çelen recommends to use of Procapil-based products to every one in hair care, regardless of whether hair transplant has been performed or not"
— Dermatologist Doctor Oyku CELEN
ISTANBUL, TURKEY, November 21, 2023 /
EINPresswire.com
/ -- Hair care is a very important issue for anyone who has or does not have a hair loss problem, who has had or is considering a hair transplant, and as a Dermatologist, I recommend a holistic approach on this issue. If people focus only on "
best hair care products
" and neglect other factors, this will reduce the efficiency of the hair care product used and prevent them from achieving the desired result, no matter how high quality the hair care product is. The efficiency of hair care; The hair care products used by the person, the supporting vitamins and minerals that affect the hair structure, daily diet, sports activities and lifestyle directly affect it.
𝐖𝐡𝐢𝐜𝐡 𝐇𝐚𝐢𝐫 𝐂𝐚𝐫𝐞 𝐏𝐫𝐨𝐝𝐮𝐜𝐭𝐬 𝐒𝐡𝐨𝐮𝐥𝐝 𝐁𝐞 𝐔𝐬𝐞𝐝 𝐀𝐟𝐭𝐞𝐫 𝐇𝐚𝐢𝐫 𝐭𝐫𝐚𝐧𝐬𝐩𝐥𝐚𝐧𝐭?
One of the most common mistakes made in the hair care process after hair transplant is choosing the "right product". First of all, it is critical for both your hair health and your own health that you do good research and research the content of the best hair care products you are going to buy.
The second most common mistake in the hair care process is being "in a hurry". Hair care is a process that requires a different reaction in everyone, and it is unthinkable that a product will have the same effect on a woman or a man in the same period of time. The effects of hair care products are generally tested in a laboratory environment or studies are conducted with a limited sample group. For this reason, first of all, you need to be patient, make the product you use a regular routine and follow the results.
𝐏𝐫𝐨𝐜𝐚𝐩𝐢𝐥 𝐟𝐨𝐫 𝐇𝐚𝐢𝐫 𝐆𝐫𝐨𝐰𝐭𝐡, 𝐓𝐡𝐢𝐜𝐤𝐞𝐧𝐢𝐧𝐠 𝐚𝐧𝐝 𝐑𝐞𝐠𝐫𝐨𝐰𝐭𝐡
As mentioned above, the product to be used for hair care must be thoroughly researched and advice should be sought from a dermatologist on this matter, otherwise a product that works for one person may not work for you.
Minoxidil is one of the most commonly used active ingredients in products that support hair regrowth. Minoxidil is a compound discovered accidentally as a side effect of drugs developed for hypertension, and its effect on hair has been proven, but in addition to hair growth, it also has side effects that seriously affect human health. Some of these are serious side effects such as hair growth in unwanted parts of the body, headache, heart rhythm disturbance, visual impairment, and chest pain. Hair health should be considered together with whole body health, and such products remove hair instantly instead of removing it permanently and also seriously threaten your health with their side effects.
Procapil, on the other hand, is the only active ingredient that focuses solely on hair problems and is produced for this purpose and has no known side effects. Procapil takes an active role in the entire "hair care process" we mentioned above. First of all, it "stops hair loss" by inhibiting the formation of DHT, which is the main cause of hair loss, by suppressing the Oleanoic acid alpha-5-reductase enzyme that forms its structure.
Biotinil-GHK, the other ingredient in its structure, prolongs the hair growth cycle and ensures that the growing hair is permanent and does not fall out in the Telogen phase, thus increasing the rate of hair growth.
With the third component in its structure, Apigenin, it expands the vessels in the hair follicles, allowing more blood flow, thus providing more nutrition to the hair follicles, and thus making the hair stronger and thicker. It also increases the rate of new hair formation.
𝐑𝐞𝐜𝐨𝐦𝐦𝐞𝐧𝐝𝐞𝐝 𝐒𝐡𝐚𝐦𝐩𝐨𝐨 𝐀𝐟𝐭𝐞𝐫 𝐇𝐚𝐢𝐫 𝐓𝐫𝐚𝐧𝐬𝐩𝐥𝐚𝐧𝐭
Since shampoo is the first product that comes into contact with the hair and scalp that we use on a daily basis, it is important for the health of the new transplanted hair and scalp to look not only at its smell and the feeling it leaves after washing your hair, but also at its content when choosing a shampoo. Otherwise, your newly transplanted hair may be damaged and the hair follicles may be permanently damaged.
We see that even the most popular brands use substances such as SLS and SLES, which are proven to be harmful to human health, to create abundant foam. Your priority in choosing a shampoo should be to choose a "sulfate-free shampoo".
In order for your newly transplanted and existing hair to grow thicker and stronger, it will be to your advantage to use a shampoo that can directly affect the roots of your hair. Therefore, it is very important for your hair, scalp and skin health to use
hair regrowth shampoo
containing Procapil, the effect of which has been proven by clinical studies.
𝐑𝐞𝐜𝐨𝐦𝐦𝐞𝐧𝐝𝐞𝐝 𝐇𝐚𝐢𝐫 𝐂𝐚𝐫𝐞 𝐏𝐫𝐨𝐝𝐮𝐜𝐭𝐬 𝐀𝐟𝐭𝐞𝐫 𝐇𝐚𝐢𝐫 𝐓𝐫𝐚𝐧𝐬𝐩𝐥𝐚𝐧𝐭
Nowadays, shampoo alone is insufficient for hair care and there is a need to use additional hair care products. It is important to be more careful in choosing these products, especially after the hair transplant process, so that the transplanted hair and existing hair do not fall out and grow healthy.
While the most preferred hair care product is
hair regrowth lotion
(also known as tonic or spray) to nourish the hair follicles and strengthen existing hair, hair mousse used to shape and nourish the hair are also among the frequently used products.
Dermatologist doctor Öykü Çelen recommends the use of McG KAPIGEN products to people who have had hair transplant for the healthy growth of the transplanted hair and for the care of existing hair.
Dr. Oyku CELEN
Dr. Oyku CELEN Clinic
+90 542 230 66 69
info@drcelen.com
Visit us on social media:
Facebook
Instagram
YouTube
TikTok
NOTE: This content is not written by or endorsed by "KTSM", its advertisers, or Nexstar Media Inc.
For inquiries or corrections to Press Releases, please reach out to EIN Presswire.