EIN Presswire | Newsmatics
Applications OPEN for the UPG Biashara Class of 2024
News provided by
EIN Presswire
Nov 20, 2023, 6:31 AM ET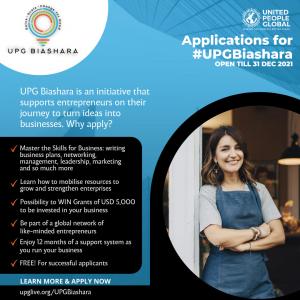 Apply for #UPGBiashara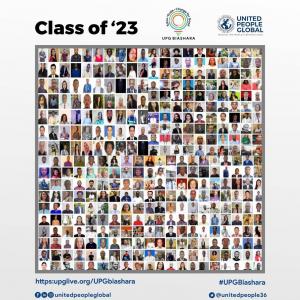 #UPGBiashara Entrepreneurs Class of 2023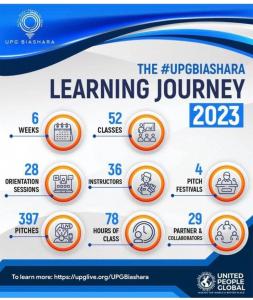 The Learning journey- #UPGBiashara 2023
Entrepreneurs from across the world are applying to join the UPG Biashara Class of 2024 - skills, exposure, mentorship, grants and more. Deadline 31 Dec 2023
We believe that entrepreneurs make the world better, and through UPG Biashara a coalition of organisations and individuals work together to provide exemplary support to entrepreneurs across the world"
— Yemi Babington-Ashaye, President at United People Global
GENEVA, SWITZERLAND, November 20, 2023 /
EINPresswire.com
/ -- Entrepreneurs are applying to be selected for the
UPG Biashara
Class of 2024. The opportunity provides CASH grants, free classes, international exposure and so much more. UPG Biashara is an initiative that supports entrepreneurs in their journey to turn ideas into businesses. Entrepreneurs can win cash grants from USD 5,000 up to USD 20,000. The application deadline is 31 December 2023.
The unique ecosystem is built with a view that entrepreneurs deserve support that maximises their chances of success. And this support is provided for free to those fortunate entrepreneurs who earn their place by demonstrating their ideas and their passion. The initiative is defined by two distinct journeys: the Learning Journey and the Action Journey. Grants are provided during the Action Journey and are possible through several special grant programs, including the Diamonds Do Good
®
Entrepreneurship Grant. The deadline to apply is 31 December 2023 and interested individuals can apply and learn more here:
https://upglive.org/upgbiashara
.
Among the highlights are cash grants given to selected entrepreneurs from different sectors that range from USD 5,000 to USD 20,000. Winners have come from different countries including: India, Nigeria, Botswana, Tanzania, Namibia and more. Another highlight is the culture of "pitching" whereby entrepreneurs have multiple opportunities to practice introducing themselves or introducing their businesses. In 2023, there were a total of 397 pitches as part of the Learning Journey.
The
#UPGBiashara
Learning Journey: The Learning Journey emphasises skill development, focusing on competencies essential for entrepreneurs to Solve, Scale, and Change for Good. It utilizes a blend of live and recorded sessions, virtual social meetings, and group assignments. For the 2023 cohort, this phase engaged the candidates in over 52 enriching classes delivered by 36 proficient instructors. These classes, totalling 78 hours in duration, provided essential entrepreneurial skills and insights.
The #UPGBiashara Action Journey: This phase extends support to entrepreneurs as they concentrate on fortifying and enhancing their enterprises. UPG Biashara offers assistance through various means, including financial aid, mentorship, networking opportunities, and additional resources.
"We believe that entrepreneurs make the world better, and through UPG Biashara a coalition of organisations and individuals work together to provide exemplary support to entrepreneurs across the world," said Yemi Babington-Ashaye, President at United People Global.
UPG Biashara also offers an array of prestigious grants, including the Diamonds Do Good
®
Entrepreneurship Grant, the Maxine's Village Business Grant, and the Prince Adebajo Babington-Ashaye Business Grant. These grants stand as a testament to the initiative's unwavering commitment to nurturing and supporting innovative business ventures.
Among the highlights of this year's grant recipients are those who have earned the distinguished Diamonds Do Good
®
Entrepreneurship Grant for $5,000: Richard Seletlo from Botswana; Pooja Singh and Pavan Vyas from India; Desta Ali, Isata Jalloh, and Andrew Sahr Norma from Sierra Leone
Xabrina Micheli'li Thompson and Nonhlanhla Cynthia Mhlongo from South Africa. These UPG Biashara Entrepreneurs represent a diverse spectrum of industries and exemplify their commitment to creating positive impacts through their entrepreneurial endeavours.
Meanwhile, Elias Elisante, a UPG Biashara Entrepreneur from Tanzania, received the prestigious $10,000 grant prize in recognition of his remarkable entrepreneurial endeavors and dedication to fostering positive change through education. Furthermore, the Grand Grant prize of $20,000 was awarded to Eddy Ngonga, a UPG Biashara Entrepreneur from Namibia. This prestigious grant acknowledges his exceptional vision and potential to effect substantial change on a broader scale.
Applications for the Class of 2024 are now open, welcoming aspiring and existing entrepreneurs to join this transformative journey. For more information about UPG Biashara and to apply, please visit
https://upglive.org/UPGBiashara
Note to Editors
Learn more about UPG Biashara:
https://upglive.org/UPGBiashara
Social media hashtags: #UPGBiashara
Learn more about the Diamonds Do Good
®
Grant:
https://upglive.org/DDG-Grant
Learn more about the Maxine's Village Business Grant:
https://upglive.org/mvbg
Learn more about: Prince Adebajo Babington- Ashaye Business Grant:
https://biashara.unitedpeople.global/grants/babington-ashaye-grant/
Learn more about United People Global
https://unitedpeople.global/about-us
Attend UPG Biashara events:
https://upglive.org/upgbiashara-events-RSVP
Join UPG:
https://unitedpeople.global/join
Join UPG Media Community:
https://unitedpeople.global/nominations/journalists-nomination
Follow UPG on social media: @unitedpeopleglobal or on Twitter: @unitedpeople36
Dixita Mahanta
United People Global
email us here
Visit us on social media:
Facebook
Twitter
LinkedIn
Instagram
YouTube
Other
UPG Biashara - Solve, Scale and Change For Good
NOTE: This content is not written by or endorsed by "KTSM", its advertisers, or Nexstar Media Inc.
For inquiries or corrections to Press Releases, please reach out to EIN Presswire.