The 500,000th Mercedes-Benz G-Class rolled off the production line on Thursday at the SUV's plant in Graz, Austria.
The milestone comes 44 years after the civilian version of the G-Class made its debut, and as a sign of the vehicle's growing popularity, the last 200,000 examples were built in just the previous six years.
To mark the milestone, the 500,000th example is a special one-off design with elements mimicking an early G-Class, specifically a 1986 280 GE. Key retro cues include the agave green exterior paint (one of the earliest colors available on a G-Class), checkered fabric on the seats, and orange lenses for the indicator lamps. The design of the steering wheel and spare wheel cover also feature classic cues, according to Mercedes.
The G-Class, which draws its name from geländewagen, the German word for "off-road vehicle," was conceived as a military vehicle. However, Mercedes and the Austrian firm Steyr-Daimler-Puch began discussions about a civilian version of the SUV as early as 1969.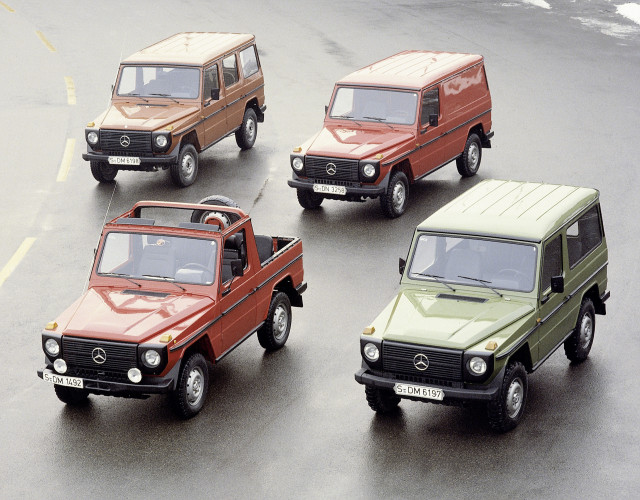 1979 Mercedes-Benz G-Class lineup
By 1972, the decision was made to develop one and in the spring of 1979 the first civilian G-Class was launched. Steyr-Daimler-Puch was responsible for production, right up until 2001 when the company was dissolved. However, its vehicle manufacturing operations were taken over by Canada's Magna International and turned into the new division Magna Steyr, which today still builds the G-Class for Mercedes.
Over the decades, the G-Class has been updated while keeping its look and feel unchanged—a philosophy that will be tested next year when the first electric G-Class is launched.
Related Articles